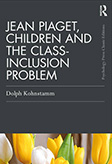 Jean Piaget Children and the Inclusion Problem
Jean Piaget, renowned Swiss developmental psychologist biologist and epistemologist. Is best known for his groundbreaking studies with children, which led him to develop a landmark theory of cognitive development. Geldolph A. Kohnstamm's Jean Piaget: Children and the inclusion problem is a critical study of a cornerstone of Piaget's theory. This theory holds thst a child's ability to solve problems of class inclusion marks the beginning of the period of concrete(logical) operations at about seven or eight years of age.
Kohnstamm's experiments show,however, that with directive teaching methods most children of five can alredy learn to solve to solve inclusion problems. His results made him to question a basic assumption of Piaget's theory. This theory holds that logical operations can only develop in firmly connected 'groupings' of operations, not In isolation.
This book is a revised edition of the 1967 original
ISBN: 9780367725259
170 paginas
www.routledge.com